14 Apr

The Airbus A380 Is Finally Taking Off… Or Not?
In one of AeroAnalysis' previous articles, the Airbus order book for the A380  had been analized and  it was concluded that there is a lot of air in the A380's order book. AeroAnalysis considered about 40% of the Airbus A380 backlog to be doubtful.
In this article, AeroAnalysis will have a look at how things developed since. There is good news and there is bad news:
The bad news: There were cancellations. The good news: There were commitments and firm orders.
The Airbus A380 Order Book
Table 1: Order Book A380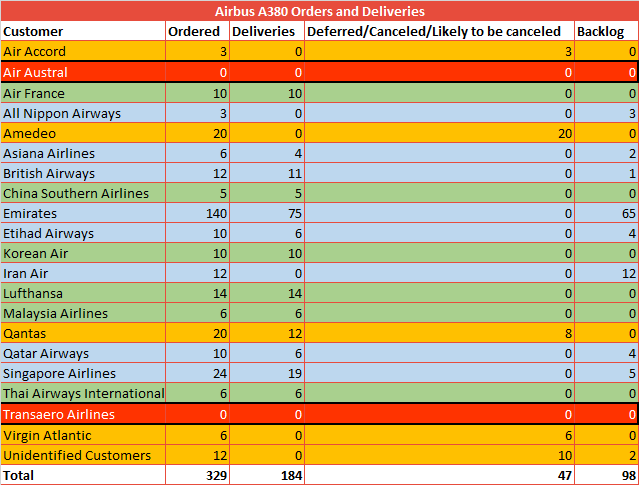 In my last article, I counted 317 orders for the A380, currently I count 329 orders. The 12 units growth is primarily caused by the addition of the commitment from Iran Air for 12 Airbus A380 airframes. Although these orders are not yet in Airbus' order books, I think it is one of the things that Airbus can actually count on.
Air Austral
Air Austral that wanted to operate the Airbus A380 in high density configuration has found the Airbus A380 not suitable for their route network and canceled the order for 2 units.
Air France
Air France, which initially pushed back deliveries, ended up swapping the remaining orders for the Airbus A380 in favor of the Airbus A350. The swap that does not yet reflect in Airbus' order book means that Air France has no remaining orders for the A380.