03 Oct

Boeing: Protecting What Is Not Being Threatened
Boeing asked for anti-dumping duty and countervailing duty for aircraft imports from Canada with a 100-150 seating capacity regardless of airline-specific configuration and a minimum range of 2,900 nautical miles and covered by an FAA type certificate as such. I think that much of Bombardier's stronger point starts here, where we can have a look at the C Series, Boeing 737 NG and Boeing 737 MAX families.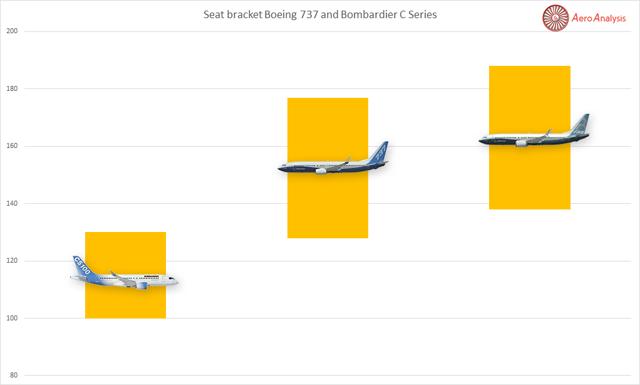 One important observation that needs to be made is that there is very little overlap between the Boeing 737 families and the Bombardier C Series aircraft. In fact, there is no overlap between the 737 MAX and C Series aircraft at all.
Boeing has asked the Department of Commerce to consider the 100-150 seat aircraft with a minimum range of 2,900 nautical miles, and that is something I could not disagree more on. The C Series as we know it today is a 100-130 seat aircraft family with 2 members. By taking the minimum range of 2,900 nautical miles, coinciding with the Boeing 737-800 range, and stretching that bracket all the way up to 150 seats, Boeing tries to create the impression that the C Series as we know it today is an immediate threat to Boeing's core business where there is significant overlap.
The figure quite clearly shows that this is not the case and there is little to no overlap. The only overlap that there could be is between the Boeing 737-700 and the Bombardier CS300. With the introduction of the Boeing 737 MAX, Boeing has stretched the Boeing 737 MAX 7 to accommodate more passengers. Important to note here is that Boeing claimed that this has been done on customer demand, which somewhat takes away any thoughts that this decision is driven by a potential fierce competition in the lower part of the seat bracket.