20 Apr

Boeing's Q1 Deliveries Fits The Profile
After Boeing reported Q1 2016 deliveries, a lot of people and news sites were reporting a 4.3% drop in deliveries, without actually looking whether this fits the guidance provided by Boeing. In this article, AeroAnalysis had a look at Boeing's Q1 deliveries per program and place the Q1 deliveries into the bigger picture.
Q1 Commercial Deliveries
Table 1: 1Q 2015 deliveries versus 1Q 2016 deliveries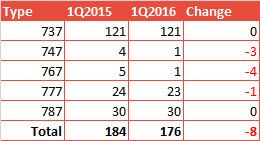 Before looking at the deliveries per type, it is important to note that Boeing expects to deliver between 740-745 units. This is 17-22 units less than the delivery volume in 2015.
Boeing 737
As can be seen, year-over-year deliveries for the Boeing 737 were flat. While it was said deliveries would fall due to the transition towards the 737MAX, the flat Q1 deliveries feed the suggestion that Boeing has not been able to sell all available slots for 2016. If this is the case, deliveries are likely to drop in the second half of 2016.
Boeing 747
The Boeing 747 program is in a more than challenging position and has forced Boeing to cut production rate several times already. Currently, the production rate stands at 1.3 units per month, which will be incrementally reduced to 0.5 aircraft per month later this year.