5
minutes read
A few years ago, AeroAnalysis published a report on the regular platform on how the first attempt of Airbus to penetrate the North American market seemed to be hitting a road block as both American Airlines and United Airlines were reviewing their order for the Airbus A350. In this report, we are revisiting the subject and see how things, in our view, have improved significantly for the Airbus A350 in North America despite losing a customer.
Hawaiian Airlines
The first airline we consider is Hawaiian Airlines (HA). In November 2007, Hawaiian Airlines signed a Memorandum of Understanding for the purchase of 6 Airbus A350-800 and 6 Airbus A330-200 aircraft. The tentative agreement was firmed in February 2008, but Hawaiian Airlines later converted the order for the 6 Airbus A350-800s to an order for 6 Airbus A330-800 aircraft as Airbus no longer intended to develop the smallest member of the Airbus A350 family and focused on the Airbus A350-900, Airbus A350-900ULR and Airbus A350-1000 instead and even explored the development of a further stretch. Airbus would end up losing the order for the Airbus A330neo as well as the airline canceled the order in favor of the Boeing (BA) 787-9. Losing Hawaiian Airlines as a customer for the Airbus A350 has been a step Airbus has been willing to take as it offered Hawaiian Airlines the Airbus A330neo or Airbus A350-900 as a solution.
Delta Air Lines

Source: Breaking Travel News
The second airline we are looking at is Delta Air Lines (DAL). There is little to no doubt that Delta Air Lines loves Airbus aircraft, they currently operate 214 Airbus aircraft and have another 224 aircraft on order. The Airbus A350 is part of the active fleet as well as aircraft Delta Air Lines still has on order. In 2014, Boeing was dealt a big blow as Delta Air Lines selected Airbus to provide 50 wide body jets to the airline including 25 Airbus A350-900s.
As market dynamics changed somewhat with overcapacity putting pressure on yield and lower fuel prices making it attractive to defer deliveries of fuel efficient aircraft and extending the operations of existing aircraft with lower capital costs, Delta Air Lines deferred 10 aircraft initially slated for delivery in 2019-2020 by two to three years with additional schedule flexibility. Overall, Delta remained loyal to the Airbus A350 and as expected they did cancel the order for the Boeing 787 which they inherited from Northwest Airlines when the companies merged.
Delta Air Lines currently operates all 11 of the Airbus A350s that are already delivered to the airlines. We believe that Delta Air Lines will follow up with additional orders to support further growth and replacements in the future.
United Airlines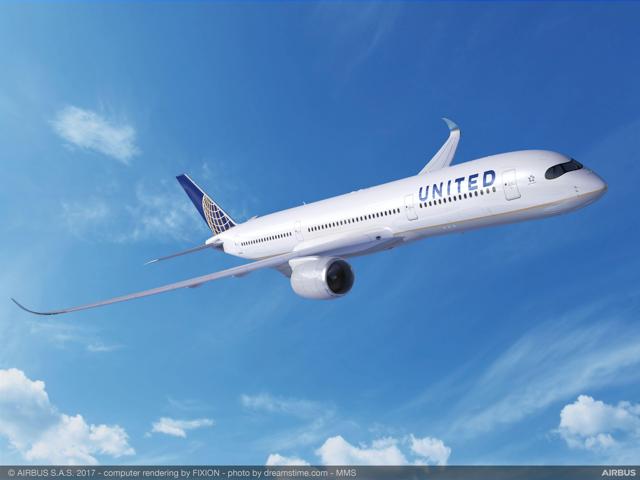 In 2009, United Airlines (UAL) ordered 25 Airbus A350-900 aircraft for delivery in 2016. In 2010, United Airlines and Continental merged, which brought orders for the Boeing 787 and the Airbus A350 together. United Airlines converted the order for 25 Airbus A350-900s to orders for the bigger Airbus A350-1000 and added another 10 A350-1000s to the order book with deliveries planned for 2018.
The aircraft were intended to replace the Boeing 747 fleet, but United Airlines is now getting its hands on discounted Boeing 777-300ER aircraft as Boeing is trying to bridge the gap as it transitions towards Boeing 777X production. It left a big question mark behind the order for 35 Airbus A350-1000s. In September 2017, United Airlines converted the order for 35 Airbus A350-1000s back to orders for the -900 and added another 10 aircraft to the Airbus A350-900 order book. Overall, United Airlines was able to get the Boeing 777-300ERs at very attractive prices but Boeing was not able to stop United Airlines from being a customer for the Airbus A350. In fact, United Airlines increased the number of aircraft on order from 25 Airbus A350-900s when first announced to 45 A350-900s, which means that United Airlines added over $3B worth of Airbus A350s to the order book. Possibly they have been offered good prices to remain a customer, while they also received steep discounts on the Boeing 777-300ERs.
American Airlines

In 2005, 13 years ago, US Airways ordered 20 Airbus A350-800 aircraft. Two years later the airline added another 2 units to the A350 order book. Deliveries were scheduled for 2014, but the airline deferred deliveries to 2015 and later to 2017. In between, US Airways merged with American Airlines, but the new combined company also seemed to have little to no appetite for the A350. The airline converted all orders to the Airbus A350-900, but in June 2016, deliveries were delayed by another year and another deferral followed putting the first deliveries in late 2020. From the original schedule, deliveries had been delayed by 6 years, the order was 13 years old and had experienced 4 deferrals. This raised some questions on the airline's eagerness to add the Airbus A350 to its fleet and as expected American Airlines did indeed end up canceling all A350-900 aircraft it had on order with Airbus in favor of the Boeing 787-8 and Boeing 787-9, a painful loss for Airbus.
Conclusion

Looking at the orders for the Airbus A350 from North American operators, we can observe that from the airlines that initially placed orders for the Airbus A350-800, none are a customer for the Airbus A350 anymore. What can also be observed is that what Airbus lost with American Airlines, they already had gained it back with United Airlines months earlier. The order book remained more or less stable, but the Airbus A350-1000 seems to have become the victim, partly reflecting campaign efforts.
Delta Air Lines, despite deferring deliveries, remained loyal to Airbus while Boeing managed to drive American Airlines away from the Airbus A350.
It has not been easy for Airbus to bind customers for the Airbus A350 in North America, but we think they managed very well and they even managed better than expected with United Airlines expanding their commitment.
To date, Boeing did deliver more Dreamliners to the North American market and the big US airlines, but this partly is caused by the earlier service entry in combination with the Airbus A350 being somewhat big for airlines that do not require the range. Ultimately, the Airbus A350 has the ability to reach further into the seat-range field of the Boeing 777 meaning that we might see an uptick in Airbus A350 orders once the replacement cycle for the Boeing 777 starts kicking in.
Boeing and Airbus both won and lost contracts with key customers. Delta Air Lines went with Airbus, American Airlines went with Boeing and United Airlines is taking aircraft from both. Basically what one would expect in a duopolistic market.