2
minutes read
During the Q3 earnings call, CEO of The Boeing Company (NYSE:BA), Dennis Muilenberg, hinted at a possible relaunch of the Boeing 767-300ER after a question from an analyst.
Muilenberg said the following:
If you look at that current market outlook that I mentioned earlier, sort of in that small widebody class, if you will, about 5,000-airplane market size out there is part of our current market outlook. So it's a substantial marketplace. The 767 is well positioned. And for some customers, it's a great value proposition.
In this article, AeroAnalysis has a look at why a re-launch could possibly make sense.
Proven history
So first of all, an important point is that the Boeing 767-300ER has a proven history. 583 aircraft were ordered, with 583 delivered since 1988 and roughly over 400 on order. With the first aircraft delivered in 1988, any aircraft delivered in 1988 would be 29 years old by now, or in other words, there likely is a replacement cycle that is going to kick in, and Boeing has nothing to offer that matches the Boeing 767-300ER at this time.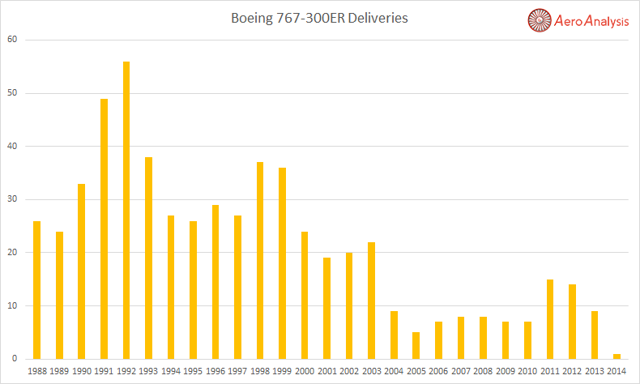 Figure 1: Boeing 767-300ER deliveries
What we see is that is that up to and including the year 2003, 493 Boeing 767-300ER aircraft have been delivered. Using a retirement age of 20 years, the first aircraft slated for retirement reached that age in 2008. With fuel-saving winglets and lower fuel prices, it is likely that airlines have decided to push the retirement of the Boeing 767-300ER beyond the 25-year mark towards the 30-year mark.
Some of the older aircraft reach the retirement age of 30 years by 2020, with a second peak around 2030. This opens up opportunities for Boeing.
At first, you would be inclined to say that there are chances to replace the Boeing 767 with other Boeing 767 aircraft, but we also have to look at some of the bigger operators of the Boeing 767-300ER and what their plans currently are: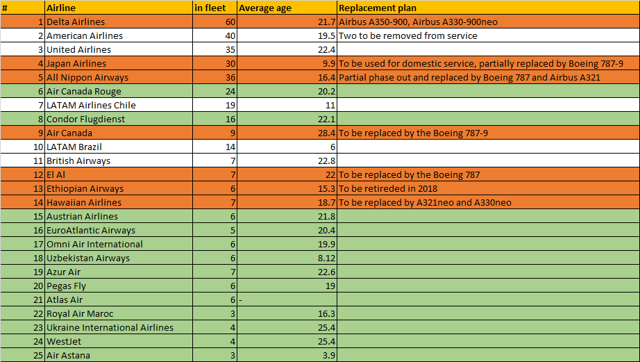 The 25 biggest operators operate 366 Boeing 767-300ER aircraft. Seven airlines already have replacement plans in place, and for 13 operators, the Boeing 767-300ER might indeed offer a solution for a variety of reasons. What we also see is that out of the 5 biggest operators, two airlines do not have firm replacement plans for the Boeing 767-300ER, and I would think that Boeing will be looking for back-up from one of these customers in order to consider relaunching the Boeing 767-300ER or a big commitment from a leisure carrier.