5
minutes read
Every month, AeroAnalysis covers the orders and deliveries for Boeing  and Airbus. Now, there's a lot more than just orders and deliveries. Some subjects are worthy of more detailed analysis and some are not. The subjects that are not are not necessarily unimportant. Therefore, AeroAnalysis has been running a monthly series that bundles some of the most interesting news items that do not justify a separate article or deserve to be mentioned again. You can read the August report here. In this report, some news items from September will be highlighted.
Share prices in September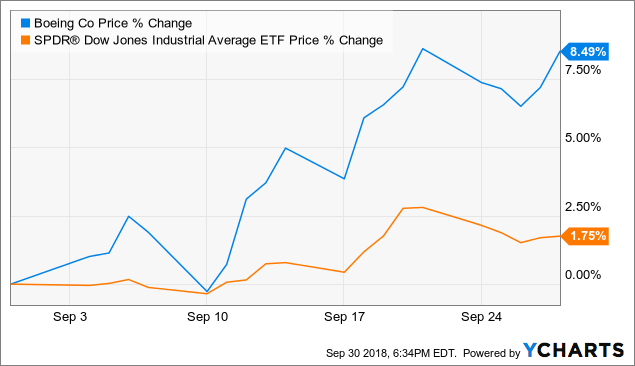 BA data by YCharts
In September, Boeing's shares gained 8.5% compared to a 2.8% loss a month earlier. Boeing shares underperformed the Dow Jones, which gained 1.75%.
Boeing strongly outperformed the market during the month. It must be getting old by now, but we believe this is partly related to the easing tensions and partly to the investor conference that apparently has left investors and analysts positive on the company's prospects.
During the month, there seemed to be some easing in the trade tensions. The fact that a trade talk between China and the US was canceled had little to no impact. It is early to make definitive statements, but it could very well be that the market is really putting these trade tensions and rumors in context where not every development has to be followed by a strong market reaction.
A look at some price target announcements in September:
Berenberg set a $430 price target.
Jefferies raised its price target from $400 per share to $410, though we already recorded a $410 price target in July.
Morgan Stanley set a $400 price target with a Hold rating.
There wasn't a lot of analyst action during the month of September, but we continue seeing price targets far above today's share prices. Important to note is that we haven't seen analyst lowering their price targets for Boeing even with supply chain challenges being more visible than ever.
Commercial Airplanes News
During the month, there wasn't a lot of Commercial Airplanes news. Boeing received an order from Nigerian Air Peace for the Boeing 737 MAX, while Shanghai Airlines received its first and second Boeing 787. The airline has ordered a total of 10 Boeing 787-9. Originally, the first Dreamliners were supposed to enter service in 2019, but that seems to have been advanced by a few months. What we observed was that with the end of the quarter in sight, Boeing pushed out quite a few deliveries to customers in the final days of the month. Also included in the deliveries were Dreamliners for Hainan Airlines which remained undelivered for a while as there were some difficulties to make the final delivery payments.
Services And Investments News
Boeing finalized the acquisition of Millennium Space Systems. MSS is known for its small satellite solution. With this acquisition, Boeing is positioning itself to benefit from the trend of satellite miniaturization. Boeing also invested in BridgeSat to support faster and more reliable optical connectivity. BridgeSat is developing a global network of optical ground stations to transmit large amounts of data into space quickly and reliably. Its stations support low Earth orbit and geostationary satellite optical communications, enabling secure transmissions between satellites, other spacecraft, unmanned aerial vehicles and high-altitude aircrafts. The MSS acquisition fits in the satellite portfolio where miniaturization is a trend, while the BridgeSat investment supports Boeing's UAV strategy.
Shifting to data, Boeing will begin integrating new data analytics tools into all Boeing Defence Australia support contracts, enhancing its position as a leading fleet services provider in the region.
The Boeing AnalytX systems, featuring new technologies developed by Boeing in Australia, include a platform-agnostic data analytics engine using international and local fleet data to provide predictive maintenance insights.
Defense News
With September being the final month of the DoD fiscal year, there still were some decisions due and contracts to be awarded even if it only were to use the full budget in order to receive higher funding levels next year.
With the FAA granting the KC-46A Tanker program a Supplemental Type Certificate, the KC-46A Tanker has now been fully certified. On top of that, Boeing was awarded a new contract for 18 tankers, spare engines, spares, support, wing air refueling pod kits valued $2.9B. The new contract brings the number of tankers under low-rate initial production contract to 52. The first delivery is scheduled for October. With new Category 1 deficiencies arising, the first delivery might slip, but Boeing and USAF are working on a parallel solution.
Boeing won big business in the rotorcraft segment where Boeing partnered with Leonardo proposing the MH-139 as the UH-1N replacement. Via the $2.4B program, Boeing will provide 84 helicopters, including training devices and support equipment. The MH-139 will replace the aging Huey fleet, resulting in acquisition and life cycle savings of $1B and will be used to guard the land-based nuclear sites in the US. Boeing received an initial $375 million contract for item integration of 4 rotorcraft.
Possibly, the most important contract Boeing won is the Advanced Trainer Jet contract. Together with partner Saab, Boeing designed and manufactured a clean-sheet trainer specifically tailored to the wishes of the USAF. For Boeing, the contract for 351 jets and simulators was an important one with the eye on continued fighter jet or fighter jet trainer production in St. Louis. Fighter jet and trainer jet production is now secured until 2034, which is strong for a business line that faced shutdown not too long ago. The contract value was estimated to be $19.7B, but through competition, the USAF saved over $10B or in other words: Boeing steeply discounted in order to receive the contract, but this is something AeroAnalysis already pointed out early last year.
Conclusion
Boeing share prices increased in September, strongly outperforming the Dow Jones. Easing trade tensions in combination with a positive impression during the Morgan Stanley Laguna Brokerage Conference.
We saw Boeing pushing out quite a few aircraft to customers in the final days of the month, likely to bolster its Q3 results since revenue recognition occurs upon delivery just like a big chunk of the cash changing hands. In September, Boeing completed the acquisition of MSS and invested in BridgeSat. These are 2 investments that fit Boeing's portfolio strengthening the satellite area as well as the area of unmanned vehicles.
During the month, Boeing saw the certification of the KC-46A Tanker program being completed while it landed the Huey replacement contract as well as the T-38C replacement contract. When the contracts are fully exercised, Boeing will build over 500 trainer jets and helicopters.
Overall, we continue to see positives in all parts of Boeing's business, and the company continues to invest in start-ups and companies that can provide cost-saving technologies or enablers in the future. We view any pressure on Boeing's share prices arising from trade concerns as an opportunity to add to existing positions.