7
minutes read
This report was published earlier for our subscribers on Seeking Alpha. If you enjoyed reading this report, please considering subscribing to our reports on Seeking Alpha and receive our updates as soon as they are published. 
Were we discussing steel tariffs just a couple of weeks ago, we are now inching closer to a broader trade war it seems. At the time of writing (April 4th), Boeing (BA) is trading down 5.2% pre-market, following a list of products the Chinese published that might be subjected to tariffs. In this report, we want to have a look at the recent developments in what seems to be something that is escalating faster than expected where we also continue to place side notes on an actual trade war and how that might or might not Boeing's business.
Tariffs on steel and aluminum
The first tariffs we take a look at are the tariffs on steel and aluminum. The Trump administration formerly ordered the tariffs on steel and aluminum on the 8th of March. For Boeing products, AeroAnalysis estimated the maximum 'pain' that Boeing would see on production costs and concluded that there was no reason to worry; Depending on the type of aircraft, the impact of tariffs remains well below 1 to 2 percent, and that is a cost growth that Boeing can easily let the customer (airline or lessor) pay for via price escalations which are common in the industry.
At the same time, we did point out that, while the direct impact on production costs is limited. A trade war could be disruptive to Boeing's business as it puts pressure on the company's share prices. Given that Boeing is currently trading 9% lower since the start of March and almost 13% off its all-time high, we were not wrong there, though we believe that the drop in part is caused by problems at supplier side which puts pressure on Boeing's planned production hikes.
China countered these tariffs with a list of 128 US products subject to tariffs.
Theft of intellectual property
Tariffs stemming from President Trump's decision to protect the steel and aluminum industry in the US are limited to Boeing's business and profitability. The bigger elephant in the room is the $50B to $60B in tariffs that the Trump administration announced, which would put 10-12 percent in tariffs on the total annual import from China to the US. That's significant. The tariffs are intended to be a trade sanction following practices of intimidation and technology theft and can count on a reaction of equal magnitude.
Overnight, following a list of 1,300 Chinese products that would potentially be subject to tariffs, China retaliated putting US aircraft on the counter list. Was it China that made the aerospace sector part of this political trade game? No, the US did include some aerospace products in the list of 1,300 products.
For Boeing, that is painful for several reasons, but there also are several matters that take some weight off Boeing's chest even with US aircraft being on the list.
China is a powerhouse for Boeing
Together with India, China is the fastest growing market for commercial aircraft and air travel. Boeing is unlikely to be willing to lose business there.
In the coming 20 years, China is a $1 trillion market for Boeing and Airbus (OTCPK:EADSF) accounting for 1 out of every 6 projected deliveries. So, obviously, this is not a country that Boeing would like to mess with at the slightest.
Table 1: Boeing deliveries 2017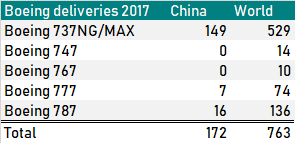 Looking at last year's figures, Boeing delivered 172 out of 763 aircraft to China. So, one out of every 4-5 aircraft was destined for a Chinese customer. For single-aisle aircraft, this ratio was even higher being 1 out of every 3-4 aircraft. On average, every week, three to four aircraft went to China.
In 2017, Boeing booked over $10B in profits. Over half of that came from Boeing's Commercial Aircraft business, and we believe that deliveries to China account for up to a third of that segment's reported profits.
Jobs to China
So, China is extremely important to Boeing's business. There is no doubt about that. Later this year, completion center is scheduled to open which will handle the completion, which includes painting of the aircraft and interior installation, of single-aisle aircraft for customers in China and in the region.
The completion center is there for the simple reason that in order to win orders it always helps to be able to support growth in the customer's country. It's for the same reason that Airbus has assembly lines in China and the US.
For Boeing, however, there is another reason to move jobs to China besides the chances to win more orders, and that reason is that it will allow the production line for the Boeing 737 at the Renton facility to go up even further.
So, China is an important customer to Boeing, and it will also allow Boeing to push production rates higher on the Boeing 737 program.
So, we're having a trade war?
As this article is being written losses were trimmed somewhat from -5% to -2.5%. The reason for that is that the initial reaction is overblown. As an investor, you might have grown used to that. We believe that the fear of a trade war is rightfully there, but also do believe that for a variety of reasons discussed below, there is not yet any reason for Boeing to go into a deep correction.
The trade war is not happening (yet)
Much of what we've seen happening recently is a lot of rhetoric. Yes, the steel and aluminum tariffs were signed and are in effect, and this has happened somewhat faster than expected, but there were countries exempted from the tariffs. That can be considered a sign that what all parties involved are looking for is negotiations, and in order to get to the negotiations table, they are already showing their teeth. A trade war does not happen from one day to the other, and before the lists both countries provided to be subjected to tariffs will become effective, we might be months further, and we'd expect that by that time both countries have started negotiating.
China needs aircraft
A second and third reason why there should be less reason to worry is that China does need aircraft, and it does need aircraft from Boeing. Not because Boeing aircraft are better but because the other major player, Airbus, can simply not provide sufficient production capacity in the event China were to drop Boeing aircraft in favor of Airbus. Chinese aircraft in Boeing's order book are unlikely to be canceled. It would even be surprising if that would happen.
Self-inflicted pain for China
For Boeing, the completion center is important. For China, the importance is much bigger as it aims to spread its wings on the commercial aircraft market. Going hard on Boeing means it goes hard on its own aspirations to become a big player on the commercial aircraft scene as a manufacturer. Also, the aircraft purchases are state-controlled, and the Chinese airline market is dominated by a handful of state-controlled airlines. So, any tariffs imposed on aircraft within the definition or extension of that definition are absorbed by those very same airlines and, possibly, the Chinese consumer.
Impact on Boeing is minor
What is very important to observe is the US aircraft that have been targeted. Aircraft that are being targeted by the retaliation have a weight between 15,000 and 45,000 kg. If you aren't familiar with the technical specifications of aircraft, then it might be hard to get an idea of which aircraft are being targeted. Boeing has aircraft with weights ranging between 35,000 kg and slightly 225,000 kg.
So, the smaller aircraft Boeing offers to customers are being targeted. That means that the Boeing 767, Boeing 777, Boeing 787, and Boeing 747 are not targeted at this very moment.
The only program targeted is the Boeing 737 program. That would seem enough to hurt Boeing as the jet maker has delivered 950 Boeing 737 aircraft to Chinese customers with 273 orders unfilled plus some unfilled orders that are not attributed to any customer that can be attributed to Chinese operators.
Looking at the weight limits, 3 aircraft variants from the Boeing 737NG family would be subjected to tariffs. These tariffs would be applicable on the Boeing 737-700, Boeing 737-800 and Boeing 737-900ER. The Boeing 737-800 has been Boeing's core product in the single-aisle line-up but has been succeeded by the Boeing 737 MAX 8, which already has a weight exceeding the 45,000 kg limit. So, at present, China is mainly targeting older Boeing single-aisle products.
Targeted single-aisle imports
Not targeted single-aisle imports

Boeing 737-700
Boeing 737-800
Boeing 737-900ER
Boeing 737 MAX 7

Boeing 737 MAX 8
Boeing 737 MAX 9
Boeing 737 MAX 10
Orders in the order book that can directly be connected to China and would be subjected to tariffs are:
0 Boeing 737-700s
27 Boeing 737-800s
0 Boeing 737-900ERs
0 Boeing 737 MAX 7s
Boeing currently has 968 orders for the Boeing 737 aircraft from unidentified customers. Out of these 968 units, 829 aircraft are for the Boeing 737 MAX, meaning that 139 units are from the Boeing 737NG family. These 139 would meet the weight criteria set by China. So, if these orders are indeed placed by Chinese customers and under the assumption that there are no unidentified customers for the Boeing 737 MAX 7, the pain would spread to a total of 166 aircraft, which is still pretty much overcomeable.
So, it is important to note that the impact is relatively limited in the current weight bracket. Going forward, we do not expect a lot of additional orders from Chinese customers for the aircraft subjected to any tariffs within the current definition, so it will likely remain what it is and that is an impact limited to between 27 and 166 aircraft. We're currently assuming that the completion of aircraft in China is not considered an import, keeping the Boeing 737 MAX 8 out of the scope. Percentage-wise, you'd be looking at 10-15% of single-aisle deliveries to China that would be affected.
Conclusion
We are seeing tariffs coming closer to Boeing, going from steel which, if any, had an extremely small impact on Boeing aircraft costs to a selection of US aircraft falling within the weight range of US aircraft that China wants to slam tariffs on.
Currently, the impact would be relatively small as it mainly targets the previous generation Boeing 737 family. We consider the US aircraft being on the list as a demonstrative pressure point showing that if need be, China is willing to make Boeing's core product subject of a tariff/trade war.
What both parties are looking for seems to be negotiations, and we are still some important steps away from Boeing aircraft being subjected to tariffs and even more steps away from a full-blown trade war that would affect economies all over the world. The thought of a trade war is a concerning one, but we'd also expect that nobody in China or in the White House wants this to happen, and as a matter of fact, we also believe that the CEO of Boeing, Dennis Muilenburg, behind the scenes will point out the importance of China to Boeing as a company.