3
minutes read
In late 2016, AeroAnalysis published a report in which we stated that Boeing would top 800 deliveries in 2017 but only book a marginal improvement in commercial revenues. In hindsight, we were wrong about the 2017 deliveries, primarily due to timing of the rate increase on the Boeing 737 program, which would be the main booster of higher deliveries. Additionally, the KC-46A deliveries for the Air Force were delayed into 2018 while deliveries for the Boeing 787 were slightly lower due to the Boeing 787-10 being added to the production system. What, however, did hold overall was the reasoning that margin improvement would be key to earnings in 2017 for Boeing Commercial Airplanes.
For 2018, we are expecting Boeing to top 800 deliveries as the Boeing 737 production increases, offsetting lower Boeing 777 deliveries and the Boeing 787-10 enter service while the long-delayed Boeing KC-46A tanker will see first deliveries. Even with production rate increases on the single aisle program occurring later in the year, we do expect Boeing to be able to top 800 deliveries.
Boeing 737
On the Boeing 737 program, Boeing has increased production from 42 aircraft per month to 47 aircraft per month in the second quarter of 2017. That transition went smoothly and Boeing simultaneously started ramping up production of the Boeing 737 MAX.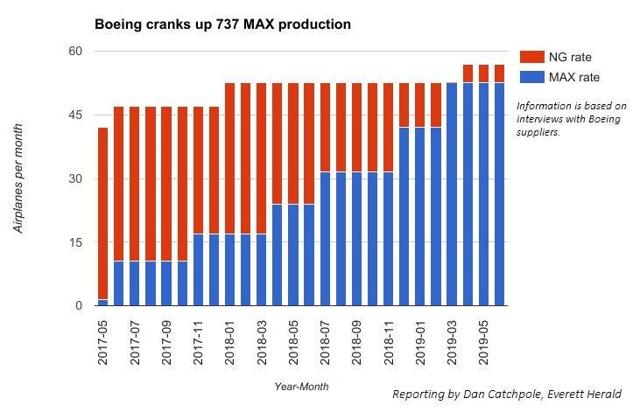 In 2018, Boeing has scheduled another ramp up to 52-52.5 aircraft per month. Based on interviews with Boeing suppliers, Dan Catchpole has compiled a ramp up pattern as depicted above. Based on this pattern, I am expecting 630 Boeing 737 deliveries in 2018. Should a ramp up slip by 6 months, that figure will fall to 600 aircraft, roughly equally split between the Boeing 737NG and the Boeing 737 MAX. This figure includes the military P-8 Poseidon aircraft.
Boeing 747
In 2017, Boeing spent time selling its wide bodies, bringing the total deliveries for the year above the annual production rate. I expect 2018 to see normal levels of delivery output with 6 to 8 deliveries.
Boeing 767
On the Boeing 767 program, Boeing is currently delivering freighter aircraft to FedEx and is producing the KC-46A tanker aircraft, which is behind on schedule due to engineering challenges. For 2018, I am expecting 7 deliveries to FedEx and the 18 tanker deliveries that were scheduled for late 2017 and early 2018. Boeing is also contemplating a relaunch of the Boeing 767-300ER production, but I do not think that will affect the production output in 2018.
Boeing 777
The biggest negative revision to production will be to the Boeing 777 program, where effective production is to come down to just 3.5 aircraft per month as the production of the Boeing 777X is feathered into the production line. For 2018, I expect 37 deliveries of the successful Boeing 777-300ER and 5 Boeing 777F deliveries. Overall, the hit will be significant with deliveries expected to fall by at least 30 units.
Boeing 787
On the Boeing 787 program, production will be realigned with the production rate as Boeing starts delivering the Boeing 787-10. Deliveries are expected to increase to 147 units for all 3 Boeing 787 variants versus 136 deliveries this year.
Conclusion
| | | |
| --- | --- | --- |
| Family | Low estimate | High estimate |
| Boeing 737 | 600 | 630 |
| Boeing 747 | 6 | 8 |
| Boeing 767 | 25 | 25 |
| Boeing 777 | 40 | 42 |
| Boeing 787 | 145 | 147 |
| Total | 816 | 852 |
Last year, our estimate showed that Boeing barely would be able to top 800 deliveries in the case of a rate increase at the start of the year. We attached the wrong conclusions to our findings at that time. This year, we think Boeing should be able to easily top 800 deliveries since a low estimate as well as a high estimate show that Boeing will top the 800 units mark.
In the most bullish scenario, Boeing Commercial Airplanes revenues could see a >10% increase. A detailed revenue impact report will be provided once Boeing will provide its full-year delivery report, but given the higher production and cost improvements on the Boeing 787, we would expect Boeing to see its cash flow growing for the 7th consecutive year.