2
minutes read
Earlier in the month, Boeing (BA) shares dropped and various news sources connected that to the fear of a trade war happening between the US and the rest of the world and primarily between the US and China. AeroAnalysis believes that primary reason for share prices moving lower were low February deliveries and reported supply chain challenges. If the concern of a trade war with China would be the real reason for the drop, it would have been likely that Boeing would have seen continued pressure on its share prices. None of that is the case. In fact, share prices have even remained somewhat flat over the past few trading days. President Trump is also continuing to threaten China with a $60B tariff package which should directly pressure Boeing's share prices if trade war was that big of a concern to be directly reflected in share prices of the US jet maker. China Southern Airlines even announced the purchase of 30 single aisle aircraft with Boeing, which should put much of the concern aside for now. This shows that a trade war as portrayed by some media is not as straightforward as it might seem and recent price action is mostly a mix of sentiment and some concerns on Q1 earnings. This does not mean that there is no price action related to a possible trade war, but it is mostly company specific news or broader market sentiment that 'triggers' the added concern of a trade war. We believe that the worst has yet to come if a trade war erupts. In this report, AeroAnalysis will have a look at 2 things that could hurt Boeing's earnings in the first quarter of 2018.
Low deliveries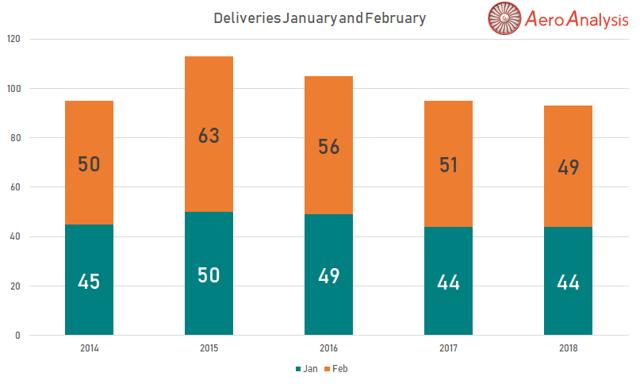 Figure 1: January and February deliveries for Boeing since 2014
The first reason for a possible disappointing first quarter are the low deliveries in the first 2 months of the year. Obviously, there still is one month left for Boeing to roll out jets. Deliveries have been contracting in the first 2 months since 2016. So the low output fits the trends, but is somewhat disappointing given the higher production rates on Boeing's single aisle program, which should have ended the downtrend for the first 2 months. Looking at the past 5 years, deliveries were at the lowest point for February and for the first two months of the year combined. That likely raised some concerns about Boeing's Q1 earnings. Boeing expects Q1 earnings per share to be roughly 15% of full year and 10% of the cash generated will be generated in the first quarter. The company is expecting adjusted earnings per share of $13.80-$14.00. Taking 15% of that figure, an EPS of $2.07 to $2.10 is obtained. Analysts are expecting full year earnings of $14.07 per share with $2.64 earnings per share in the first quarter. Analysts estimates seem to be higher than what Boeing has guided for and also the earnings per share for the first quarter might be on the high side. The relatively low delivery volume in the first 2 months, if not made up for in March, could result in disappointing first quarter results.