5
minutes read
Every month, AeroAnalysis covers the orders and deliveries for Boeing and Airbus. Now, there is a lot more than just orders and deliveries. Some subjects are worthy of more detailed analysis and some are not. The subjects that are not, are not necessarily unimportant. Therefore, we have been running a monthly article that bundles some of the most interesting news items that do not justify a separate article or deserve to be mentioned again. In this report, we will be look at what notable news there was in December.
Since, December is the last month of the year we could have chosen to provide a December edition and an article reviewing the year. For the monthly news, however, we do think that a reviewing article is not required as it would make very little sense to provide a summary of the monthly summaries. There will be some articles on specific programs or subjects, but if you want to read about Boeing's year I think it would be best to click on the link taking you to the news article from the previous month (each article contains the link to the previous month).
Share price development in December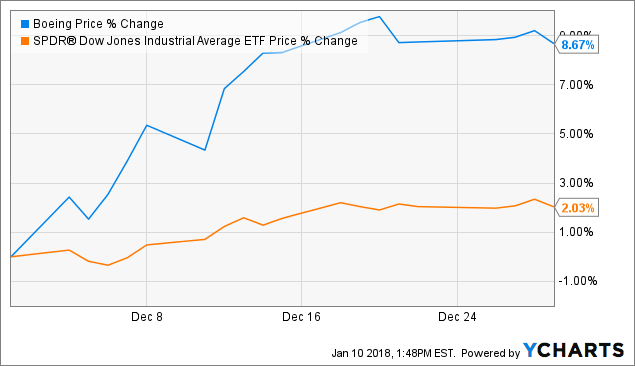 In December, Boeing's shares gained 8.7% after gaining 7.1% earlier. In December, Boeing outperformed the market likely because positive analyst coverage sparked by a positive outlook for 2018, tax reform and another hike in dividends. Analysts from Morgan Stanley and Cowen increased their price targets for Boeing to $310 and $320.
Commercial Market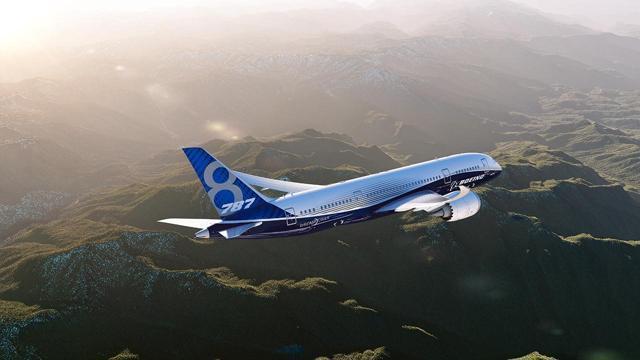 On the commercial side there was quite some news that could reshape the commercial market; In the trade dispute between Bombardier (OTCQX:BDRAF) and Boeing, the DoC upheld a previous recommendation to apply a 300% tariff on the Bombardier C Series aircraft. In December, the slightly more important ITC hearings took place and participants were given the opportunity to hand in documents before the end of the year. A verdict by the ITC is expected in February 2018. Currently I think that if not providing confidential pricing data is a big deal breaker for the ITC, then Bombardier will see tariffs on their C Series aircraft. I will be studying the briefs submitted by all parties and analyze interesting parts of those briefs.
The other big thing during December was Boeing seeking some sort of cooperation with Embraer. Brasil is not willing to hand over the direction of the Defense business, likely because having an aerospace company is also a matter of pride. It has yet to be seen whether an agreement will be reached, but Boeing approaching Embraer is an obvious result of Bombardier and Airbus teaming up on the C Series program.
Meanwhile, Boeing keeps working with Qantas to tweak the Boeing 777-8 to the needs of the airline. A decision for an order will be made at a later date and Airbus is also in the game for an order with the Airbus A350-900ULR.
Royal Air Maroc ordered additional Boeing 787-9 jets, while flydubai and Boeing finalized an order for 175 Boeing 737 MAX jets announced at the Dubai Air Show in November 2017. Aircraft sales to Emirates and Turkish Airlines, new key customers for the Boeing 787, have not yet been finalized.
The EASA has summoned Rolls Royce to replace some Rolls Royce Package C turbofans via an emergency airworthiness directive. In total 400 to 500 turbofans are suffering from parts wearing out faster than expected. In very specific cases affected turbofans cannot be used on the same aircraft requiring the turbofan to be replaced and a lower life cycle limit in combination with other turbofans. Via the airworthiness directive and subsequent action required, the chance of both turbofans shutting down in-flight should be reduced significantly.
In other news, an Ex-Im Bank critic nominated by President Trump for a position on the very same bank has been blocked by the Senate committee. Boeing, one of the biggest users of the Ex Im Bank, had also opposed the appointment.
Aircraft sales to Iran have been a big question mark since President Trump took office. Airbus has already started delivering aircraft to airlines in Iran. Boeing has only signed a tentative agreement with Iran Air and has yet to start delivering aircraft. With President Trump and a dedicated team exploring possibilities to block the aircraft sale, it is looking more and more unlikely that Boeing will deliver aircraft to Iran any time soon and at this point we would be surprised if Boeing will start delivering aircraft in April 2018 as planned.
Defense and Space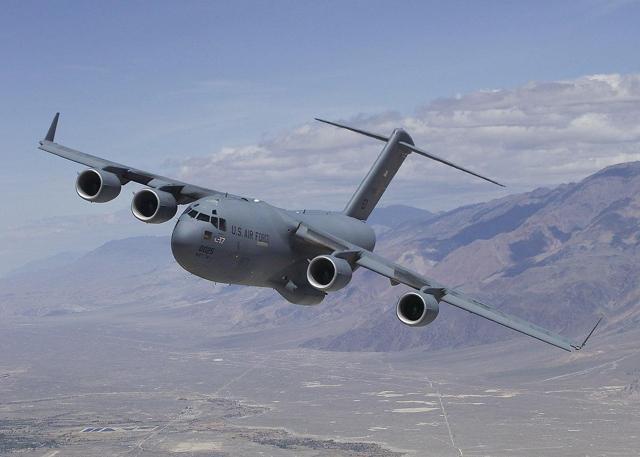 The trade dispute between Boeing and Bombardier is affecting potential business for Boeing Defense as the Canadian government has scrapped plans to buy 18 fighter jets from Boeing and could order another 88 fighter jets from another fighter jet maker. Alternative under consideration are the Eurofighter Typhoon, the Dassault Rafale and even the Lockheed Martin F-35. An order for the F-35 would affect the credibility of Prime Minister Trudeau as he campaigned against the acquisition of the F-35.  We think, overall, it has been unwise to connect the outcome of the Bombardier-Boeing dispute to Defense sales. Not in the first place, because it shows how invested the Canadian government is in Bombardier for a variety of reasons, but more because Defense acquisitions are not the type of acquisitions where a 'We can't buy with X due to a conflict that we created, so we are going with Y instead' kind of approach is desirable. Tax payer's money already has been pumped into Bombardier and due to Canada making the Defense sales part of the conflict the money of the tax payers can very well be wasted once again.
On the Ground Based Strategic Deterrent program Boeing cleared a milestone validating the technical requirements of the ICBM that should replace the Minuteman III.
In December the base of the KC-46A, the Boeing 767-2C, received its FAA Amended Type Certificate. A day later, the Japanese Air Force placed an order for 1 Boeing KC-46 with logistics support marking the first international sales.
In other tanker news, US Secretary of Defense Mattis warned that the US Air Force should not be taking delivery of KC-46A tankers that do not meet the contractual requirements. Long expected news was that the first tanker delivery would slip into 2018, but this hardly came as a surprise.
Conclusion
In December, Boeing share prices outperformed the market due to a combination of a positive outlook for 2018 and another dividend increase. On commercial level, most attention went to talks between Boeing and Embraer to join forces, but whether, how and when that will happen remains to be seen. On the defense level, we saw Canada flexing its muscles threatening to order fighter jets from manufactures other than Boeing if it back off in the trade dispute. On the KC-46 program, a key milestone was reached and the first international customer was found but the first program delivery, as expected, slipped into 2018 while US Secretary of Defense Mattis put pressure on both the USAF and Boeing.