5
minutes read
The aerospace industry tends to be a relatively closed one, making it relatively difficult to analyze and understand. That comes on top of the complexity of the industry. For investors without in-depth knowledge, this makes the industry somewhat difficult to invest in, but there certainly are moments where the jet makers such as Boeing and Airbus become somewhat more transparent. This happens during the airshows when jet makers launch new products, give product presentations and make order announcements. The order announcements usually are a mix of customer reveals, new orders and orders pending finalization. So, via these airshows, you are given quite a nice insight into the sales pipeline.
The big airshows that often bring some big order news are the Paris Airshow, Farnborough International Airshow and the Dubai Airshow. The Paris Airshow and Farnborough Airshow are alternating events, and this year it is Farnborough Airport that will be the center of the commercial aircraft industry.
AeroAnalysis will exclusively cover interesting news from the show and order announcements along with commentary on Seeking Alpha.
In this report we will cover events and order announcements for Day 3. For coverage on the previous days check out the links below:
Why tracking announcements is useful
Looking at the order announcements, it is important to note the difference in the announcements. Orders can be divided into firm orders and LoI/MoUs (Letter of Intent/Memorandum of Understanding). A firm order subsequently can consist of a new order, firming up an earlier LoI/MoU, an order conversion, or options. What we are mostly interested in are the new orders and firm-ups. LoI/MoUs are expression of intent to acquire a certain number of aircraft, possibly with options. Customers also might tentatively agree on converting part of its commitment to another aircraft type. The last category of announcements we have is the customer reveals. These do add materially to the order book, but only classify unattributed orders to the customer.
Above, we briefly laid out the differences between the various types of announcements. Understanding the differences already helps readers a lot to determine whether the announcements are meaningful or not. Mainstream media always has lumped numbers regardless of announcement type, creating a distorted picture. By splitting out these announcements, you get a much better feel of what might end up in the order book during a jet maker's next order book update, what is in the pipeline to materialize on the short to mid term and what's really a "might materialize one day" announcement. To those who already know where and how to make the splits properly, daily coverage might seem to be a bit too much, but given that I write for a broad audience, the majority does not make the split or does not have the time to make the split and that's why we launched airshow coverage. We also have to add that even contributors on Seeking Alpha often don't know the differences and associate order inflow with a justified immediate positive impact on share prices or earnings. So there are many reasons to keep covering this subject and raise awareness instead of going with the euphoria. Some readers don't see the point in daily coverage. I can be brief about that: Daily coverage gives you the most complete coverage, and since airshows can end with 1,000-plus orders and commitments, the last thing you'd want is to read a 30-page report on all 1,000-plus commitments. After each day the airshow comes to an end, we spend multiple hours filling in the tables, calculating and cross-checking before we publish a report on the daily order announcements. If we had to do it after the airshow. This would require us to spend over a week checking the numbers and verifying them plus several days writing and cutting the reports into readable pieces. By doing daily reports, we get the report to you hours after closing of the day instead of weeks after the airshow ended.
So, these are the reasons why we split announcement by types on each day. I hope you do understand the reasons for me to do it in this way. Any feedback you have on improving this coverage is appreciated.
Boeing

Source: Boeing
Day 4 usually is not the day where we are seeing the biggest order announcements. The day usually ends early and the focus often lies on opening the air show on a strong note. The last day usually has some order announcements that jet makers make to crown themselves as the winners of the air show.
On the last day Boeing announced 139 orders and commitments valued $23B:
Hawaiian Airlines signed a firm agreement for 10 Boeing 787-9 with options for another 10.
Boeing signed tentative agreements with two undisclosed customers for 15 Boeing 787 aircraft.
Dubai-based Novus Aviation Capital tentatively agreed on purchasing four Boeing 777-300ERs.
An undisclosed customer tentatively agreed on purchasing 100 Boeing 737 MAX aircraft.
There also was news from British Airways that will lease three Boeing 777-300ER aircraft from a lessor, but this merely is an announcement of a lease agreement. The three aircraft will be replacing existing Boeing 777 aircraft, so we don't view it as a strong counter of the business case for the Airbus A380.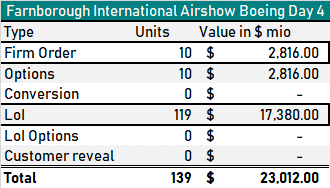 Although Boeing once again added a sizable commitment for the Boeing 737 MAX, day 4 was the day of the wide body aircraft with commitments for the Boeing 787 and Boeing 777, driving up the value of the orders and commitments to $23B.
Airbus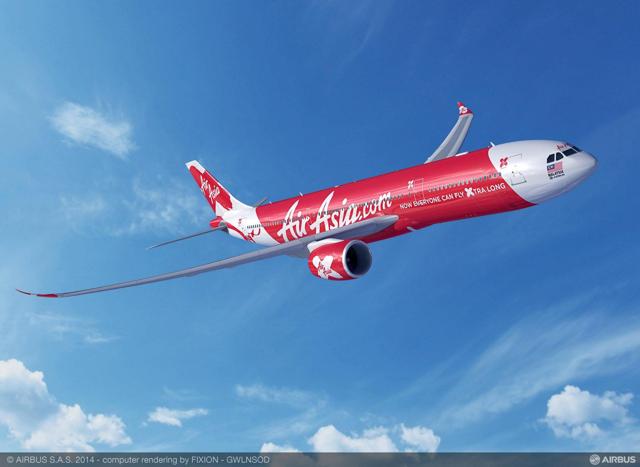 Source: Airbus
Airbus also made some final announcements for 94 aircraft valued $17.7B with an order from AirAsia X being the pinnacle of the airshow for Airbus:
AirAsia signed a firm contract for an additional 34 Airbus A330-900 aircraft.
VietJet tentatively signed for 50 Airbus A321neo aircraft.
An undisclosed customer tentatively signed for 10 Airbus A320neo aircraft.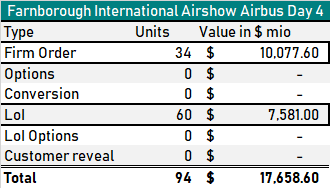 On day 4, Airbus announced what probably is the most important deal to the jet maker. There has been doubt about AirAsia's commitment to the Airbus A330neo for a long time. With the additional order for 34 aircraft bringing the total A330neo aircraft on order with AirAsia X, that doubt has been taken away.
Conclusion Day 4 Farnborough International Airshow
The smaller jet makers announced no orders or commitments during the 4thday, so we have skipped those and directly head to the conclusion of day 4.
Airbus and Boeing did end the airshow on a strong note, where Airbus will be pleased being able to announce a big wide body order. Whereas Hawaiian Airlines switched to Boeing's Dreamliner, dropping its loyalty to the Airbus A330, Airbus could announce a top up order from AirAsiaX for that very same aircraft.
In the coming days, we will be checking the numbers and come up with our view and numbers on this year's Farnborough International Airshow including total list price tally and our estimates on the actual market value.
We can already give out brief view on the airshow: This year we saw continued order inflow for the single aisle products from low-cost carriers all around the world, freighter orders reflecting growing demand for air cargo, and an uptick in next-generation wide body orders reflecting the need for fuel and cost-efficient aircraft. Somewhat disheartening was the number of orders and commitments from undisclosed customers. There always are some undisclosed commitments, but it seemed that during this airshow, quite a big number of commitments came from undisclosed customers. We're not saying these commitments carry no credibility, but there's a big difference between a starting airline ordering 100 aircraft or an established airline doing so.
While we do prepare these daily reports with the greatest care, it is possible that there might be some minor errors. When we detect an error, we will rectify as fast as possible and mention the changes made in the subsequent report.
Update 7/23/2018: Graphic has been updated to reflect correct order value for Airbus