2
minutes read
A year ago, Airbus had 319 total orders for its superjumbo and had delivered 200 aircraft. This left 119 orders in backlog. But after reducing the backlog with infinite deferrals and orders that were unlikely to materialize the backlog of which it can be expected that delivery will occur shrunk to 70 units.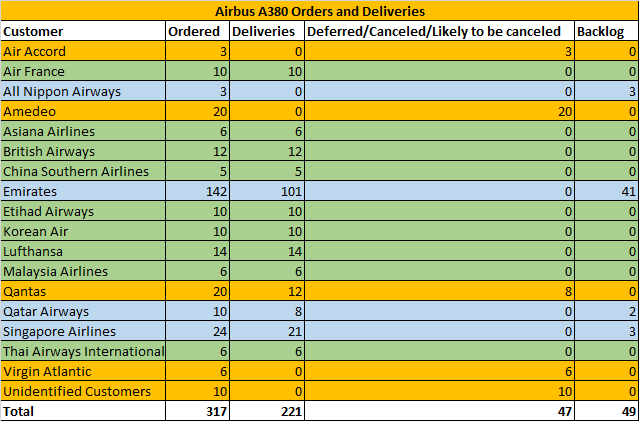 Despite presenting the Airbus A380plus concept that should increase value of the A380 to airlines, the European jet maker has not been able to seduce any airline to place orders for the Airbus A380 or Airbus A380plus. Even an order from the A380's most dedicated customer, Emirates, did not come to fruition as the airline required a production guarantee from Airbus.
2017 was yet another year were Airbus did not gather any orders from airlines or lessors. In fact, at the start of the year Air France converted its outstanding orders for the Airbus A380 to orders for the Airbus A350 bringing the order book of the superjumbo down to 317 units.
During the year, Airbus delivered 21 aircraft:
Emirates, the primary customer for the super jumbo, took delivery of 14 aircraft.
Asiana Airlines took delivery of the final superjumbo it had on order.
Etihad Airways, Qatar Airways and Singapore Airlines each took delivery of 2 super jumbos.


A late alignment in production

A production rate of one aircraft per month would give Airbus a backlog of 49 months, indicating four years of production. In my view, a good program has at five years of backlog. Troubled programs have less than three years of backlog, while three to four years is satisfactory. With that in mind, the Airbus A380 would qualify as a program with a satisfactory backlog. In 2018, production will be reduced to 12 aircraft per year followed by another cut to eight aircraft per year. This would stretch the backlog to over five years.