Boeing has finally caught some positive momentum and headlines lately and the most recent development adds another headline: Ryanair orders 75 Boeing 737 MAX aircraft. Following the ungrounding of the Boeing 737 MAX by the Federal Aviation Administration in the United States, Brazil's regular (ANAC) has followed and the European regulator, EASA, has prepared a directive that is open for public comment paving the way for the return of the MAX in European skies in early 2021. For Boeing gaining approval from regulators has marked the start of a long road to gain back the trust of the flying public.
Staging a moment: Ryanair buys 75 Boeing 737 MAX aircraft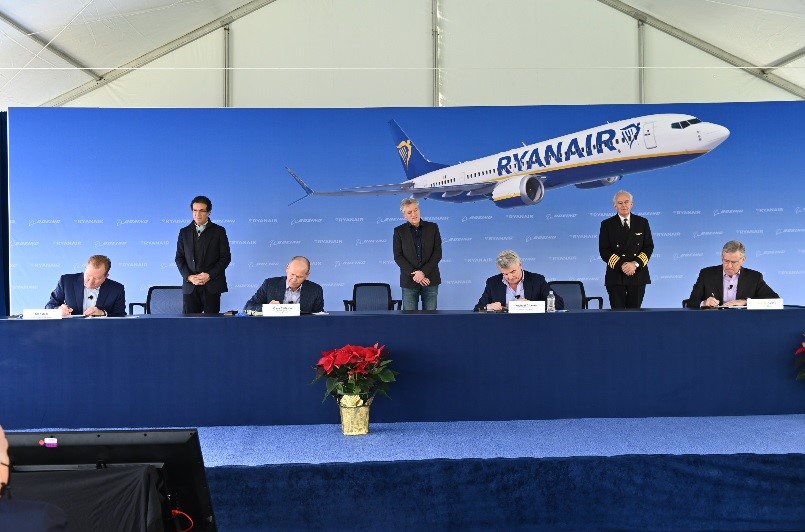 Part of the process to regain confidence does include airlines buying the aircraft. Boeing has seen some orders for the Boeing 737 MAX since its grounding in March 2019, but those were orders from smaller customers and a high profile order intent for 200 Boeing 737 MAX jets from IAG, parent company of British Airways amongst others, turned into a failed showpiece as major redesign was required and the key people behind the putting together this media moment are no longer with Boeing or IAG.
Below you can see why Boeing was looking to give the Boeing 737 MAX a positive stage with an order:
Thank you @Ryanair for ordering 75 additional 737 MAX jets. We are humbled by your continued trust and confidence in the Boeing family.

Our team in Renton is ready to deliver. pic.twitter.com/2NA6SWNLwe

— Boeing in Washington (@BoeingWA) December 3, 2020
With recertification granted in the US, Boeing has been looking to find a new spotlight moment for the Boeing 737 MAX and in Ryanair it found the customer to take the stage and announce a new order. The order has been discussed in detail in a Seeking Alpha report.
Rebuilding the production program
Since 1999, Ryanair has averaged around 27-28 deliveries each year and the Boeing 737 MAX order for 135 aircraft, incrementally firmed, that Ryanair had before its order for 75 units did follow that trend. So, the order can be seen as a boost for Boeing's production program as deliveries will stack on top of the previous scheduled deliveries adding around 21 aircraft to the production plan per year. It's an important part of the puzzle as Boeing attempts to return to industry efficient production rates, while air travel is not expected to return to previous levels until 2024. So, this order means a lot to Boeing due to the quantity, but also due to timing.
Boeing is currently going through a remarketing effort for some of its jets as some airlines no longer require the aircraft that have already been built and Boeing needs to establish a skyline to fill production slots. That has brought Ryanair a golden opportunity to order aircraft at extremely low prices, while the order can be used as a substitute for customer compensation or in some way ease negotiations about those compensations.
This order should not be viewed as an order to offset white tails, aircraft built for which there is no customer, as Ryanair is one of the few airlines that has a special variant of the MAX 8 on order requiring an additional emergency exit. The white tails that Boeing has in its inventory are not built to that standard.